How to Get Help
There are a few ways that you can communicate with us and other instructors. Below, we outline the ways you can communicate with and other instructors and how to decide which way to choose.  
Facebook Group - Oftentimes, your questions will focus on questions about how to teach or manage certain aspects of your relationship with customers. For those matters, we recommend joining the Facebook group and chatting with other instructors. They'll be able to give you a broad range of opinions on your questions. 
Email - The best way to get help with anything other than order confirmations is to email instructors@stickshiftdrivingacademy.com. The admin team that manages that email line is equipped to handle a broad range of questions and problems. This is the best place to go for things like questions about curriculum, insurance, paperwork, taxes, payments, using the scheduling system, and just about anything else that you can think of. 
​Texting - Our admin team on the texting line can only help you with confirming and rescheduling lessons. They are NOT trained to handle anything related to things like problems with direct deposit, changing tax forms, car inspections, or anything else. If you need help with anything other than order confirmations, it is best to email us. If you text us asking about anything unrelated to order confirmations or emails, the team will likely reply with a suggestion of having you email the instructor admin line.
Prioritize Safety & Listen to Your Gut Feelings
Much like your sixth sense for knowing when to upshift and downshift, you likely also have a gut feeling about when something isn't right. We believe that you should ALWAYS trust your gut feeling, even if it makes the customer unhappy. If you ever get the feeling that you don't want to teach a lesson, whether in advance of a lesson or even in the middle of the lesson, we will 100% support your decision to cancel or end the lesson early. Even if that means the customer calls us and yells at us and demands a refund, we would MUCH rather process a refund than have you call us and tell us that you didn't listen to your gut feeling and something bad happened. Your body, your car, and your peace of mind are not worth sacrificing simply for the benefit of making money. Because of our support of your gut feelings, you AUTOMATICALLY have our support for making whatever decision you think is safest and in the best interest of caution. You don't need to call us or text us to get our permission to cancel or end a lesson early; you already have that support. If you decide to cancel a lesson before it starts or end it early once it has begun, please first communicate with the customer about your decision and then text us after you talk with the customer so that we can make sure we close the loop with the customer. 
How to Get Great Reviews
The best place to start with helping you to get good reviews is by helping you to avoid bad reviews. When we get bad reviews, it is usually for one of a few reasons. 
Order Confirmation Speed - Customers want to hear from you ASAP after placing an order. In our experience, that usually means within 24 hours of the order being placed. The longer you wait to contact them, the more likely they are to request a different instructor. So, quick order confirmation directly with the customer is key. When the order comes in, you'll get an email from Acuity, our scheduling system, letting you know about the order and giving you the customer's contact information. We recommend you reach out to the customer as soon as you get that email to coordinate where you want them to meet you for the lesson. Beyond helping yourself to get a good rating, you'll also be helping yourself to get more customers. Instructors who contact the customer quickly rank higher in the search results than instructors who confirm orders slowly. Once you've talked with the customer, please either reply all to the order email from Acuity or text us letting us know that you and the customer have spoken. 
Ask for Feedback - Instructors who get the best ratings do a great job of finding out what is important to the customer and then making sure they're delivering. Often, this means having a quick call a few days before the lesson to make sure they understand what's important to the customer and any fears that they may have. During the lesson itself, they constantly check in with the customer, asking if the lesson is going too slowly or too quickly. The more often you ask for feedback, the more easily you'll be able to match the lesson to the customer's expectations. 
​Talk with customers before rescheduling or canceling - Sometimes you'll need to reschedule lessons, and that's ok. If you need to reschedule a lesson, the best first step is to call and text the customer directly to see if you two can find a new time and date for the lesson. If you and the customer have agreed on a new time and date, just update the appointment in Acuity and/or text us with the new date and time of the lesson. Similarly, if you can't take the lesson, it's best to call and text the customer first to discuss two items. (1) let them know that you can't teach the lesson and let them know that (2) you'll contact us to help get them rescheduled. They'll appreciate knowing that you're helping them to get rescheduled. Once you do that, text us to let us know you've talked with the customer and that you can't take the lesson. Once we get that information, we'll get them rescheduled with a different instructor. Whether you need to reschedule or cancel, contacting the customer first and us second will help to smooth things out for everyone involved. Note that if you cancel or reschedule a lesson without first talking with the customer, we'll pause your calendar and prevent future bookings until we review these standards with you. 
Requirements of Lessons
Regarding how you teach your lessons, you have quite a bit of freedom. Oftentimes, new instructors think that they have to follow our lead on how they teach as if they are our employees and they have to do what we say. This isn't the case. In many ways, you can think of us as working for you. We do marketing and sales for you, similar to how Airbnb or eBay would bring customers to your listings and facilitate the transaction. As a result of this, you can pick how, when, where, and who you teach. 
The only requirements of a lesson are (1) you teach in a paved off-road area like a parking lot or cemetery and (2) you give the customer the amount of time that they purchased. As long as you give the customer the ability to use all of the time that they purchased, you're fine. If the customer decides to end the lesson early, that is their choice and you're free to end it early. But if they want to use all of the time that they paid for, you need to let them use that amount of time or you'll need to give them a refund. 
Stay Off Of The Roads: In order to be covered by the insurance, the lesson must take place in a parking lot, cemetery, or similar paved non-road area. If the customer complains or has an issue with this, we strongly recommend that you remind them that they agreed to stay in a parking lot when they signed the paperwork online.
​Recommended Curriculum: Although we have a recommended curriculum, you are free to ignore it if you have a method or style of teaching that works best for you. We simply recommend that you use your best judgment and focus on balancing the safe operation of the vehicle along with the needs and desires of your customer. You're the one who is in the car with the customer and therefore you have the best awareness of what is safe and reasonable. Therefore, you should teach in whatever manner you think is safest. A bias towards caution is always the best choice. 
Payment Information
One of the most common points of confusion that new instructors have is around getting paid. Below is some useful information to help you get paid quickly and to know what you can expect.
To make sure you get paid in a timely fashion, you'll need to text us after you complete your lesson with your customer. If you split up the lesson into multiple days, you'll need to notify us after you complete the last lesson. When you text us, please include the first and last name of the customer who you taught and the date on which you completed the lesson. For example, you might write "I finished the lesson with Inigo Montoya on 2/28." Once you do that, we'll follow up with the customer to confirm that the lesson was completed. Once we hear back from the customer confirming that the lesson (or the last one, if broken up) was completed, we can release the payment to you. 
If you would like to see where this information is located in your contract, please check your email for a copy of your contract. It will have been emailed via Docusign. If you cannot find your contract in your email, please contact us at Instructors@stickshiftdrivingacademy.com and we can forward your signed contract to you. Please do not text us asking for this, as the team on the texting line will not be able to help you.
​Income Rate - There are three levels that we currently offer to customers and each has a different income rate. Level 1 is a 2 hour lesson and you will earn $100 total. For Level 2, which is a 3 hour lesson, you will earn $125. For Level 3, the 4-hour lesson, the payout is $150. This information was presented on page 2 of the contract. As of 6/26/2020, all contract signings included initialling next to the compensation rate schedule. When you signed the contract, you were required to put your initials on page 2 next to the section where we specify the compensation. Below, we've posted a screenshot example.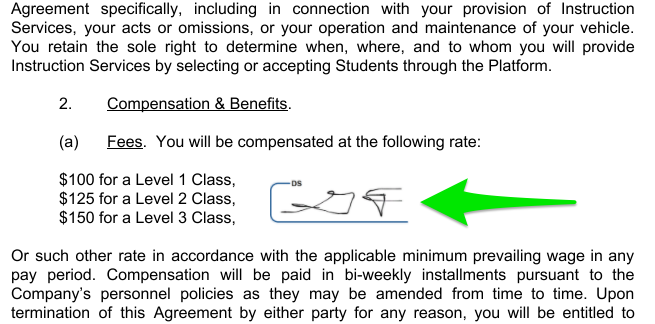 Payment Timeline - We process payments via direct deposit once per week on Wednesdays for lessons that were completed between Monday of the previous week and the most recent Sunday. To help illustrate this, let's use the calendar below to explain via an example. If today is Wednesday the 18th, we will process payments for lessons that were completed between Monday the 9th and Sunday the 15th. This means that lessons completed on the 16th and 17th will be processed on Wednesday the 25th. Typically, your bank will process the payment to your account within 2 - 3 days, meaning you will likely see the money in your account on Friday or the following Monday.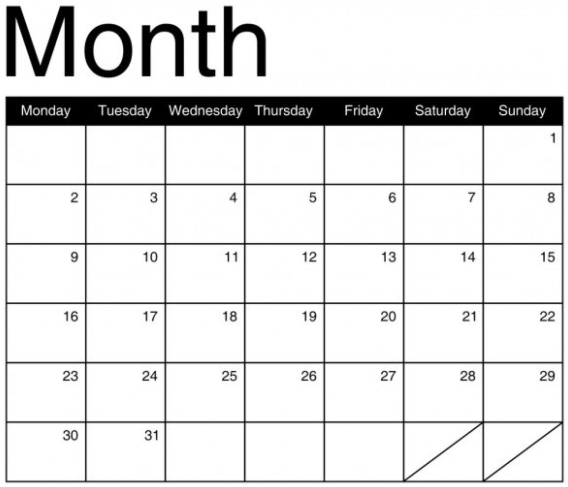 ​The two common questions that come up is why do we not process the Monday and Tuesday payments on Wednesday and why do we only do this once per week. For the Monday and Tuesday lessons, we need time to check in with the customer to verify that the lesson happened, that they are satisfied with the lesson, and to make sure there will be no refunds, chargebacks, or other adverse issues with the payment. As to why we do this once per week, we have to manually process each payment and doing so can be cumbersome and time intensive, especially if there have been scheduling issues, reschedulings, cancellations, and so on. Similar to how you might pay all of your bills or balance your checkbook on a periodic basis, doing all of our AP once per week helps us to make sure we get it all right. It would cost a significant amount of money to develop an automated payment processing system, which we can only afford to do once we get to a large scale. For now, we'd rather focus our spend on helping you to get more customers (aka marketing) rather than speeding up payment processing. Better to have the slightly slow dollar than the quick quarter.